Virtual school tours show candidates, pupils and parents everything they need to see in your school, as if there were there in person.
Why choose a virtual tour?
In the current climate, visitors are not allowed in to educational facilities, but you still need to show prospective parents and pupils around the premises. A virtual tour is the answer.
Even in more normal times, a virtual tour on your website or sent by email, will continue to help with recruitment, quickly and efficiently showing your school in its best light. Build your reputation and increase your brand awareness by adding your tour to your website and social media.
Your tour is available to view 24/7, by parents and students at home and abroad. Prospective students can easily visit your school or university from the comfort of their own home, before viewing in person later.
Xpress Virtual Tours
Xpress Tours are the most popular virtual tour format, allowing pupils and parents a good look around all of your facilities in very easy steps.
Using a drop down menu, visitors can explore all relevant classrooms, common areas, specialist rooms, sports facilities and grounds.
Your tour is presented in a branded window, to suit your school's image. Every window includes clickable links to encourage visitors to your website, social media or to send an enquiry directly to your inbox.
What is the process?
We shoot every space in stunning 360° using specialist cameras.
You can include as many spaces as you wish, including common spaces such as your reception, assembly hall, library, canteen, sports facilities or chapel. Naturally you will want to include year group classrooms, as well as specialist rooms such as science labs, language labs, food tech or music rooms.
We include all your outside spaces such as playgrounds, playing fields and sports pitches as well as outside views of your buildings. Don't forget to include any unique areas such as woodland and adventure play, or outdoor classrooms.
How does it work?
Your tour includes an easy to use menu that lists the rooms and areas that you want to show.
Virtual visitors simply click through the menu to see the 360° view of each area. They can rotate the image to explore the room and zoom in and out.
Extra layers of interest and information are added using our unique "hotspots", where visitors can click through to more detail, such as PDF documents, web pages or photos and videos.
Can we add more info to our tour?
Yes! Your tour includes up to 3 information "hotspots" in every space. Hotspots are buttons placed within a 360° view that click through to more information…
Hotspot link to video… click on a hotspot to play a welcome from the head or your teachers, videos about school life, pupil videos or even drone footage.
Hotspot link to your website… click on a hotspot to go to your web page about the curriculum or learning journey for the particular subject or year group.
Hotspot link to more information… click on a hotspot in the reception area to bring up contact details, or in the canteen click to bring up the lunch menu.
Include a personal welcome?
Yes! We include a welcome landing page with every tour. Here you can add some words of welcome, your favourite pictures or a video.
Also included are links to send an enquiry to your inbox, as well as your phone and address details, together with website and social media details. We can also include Google Maps and even drone footage!
Can we update the tour?
Your tour will prove to be a valuable marketing resource, so it is important to keep it up to date and relevant.
Therefore we offer an exclusive support package that includes updates throughout the year.
For example, if a room or space is changed or improved, or a new facility added, we will quickly update your tour to match.
At the same time we can update any linked information such as curriculum or website changes, or perhaps new videos filmed during the school year.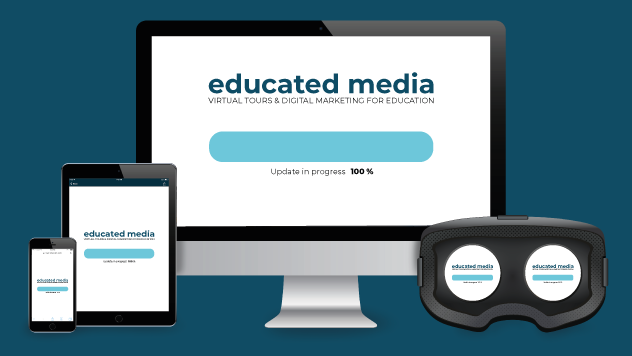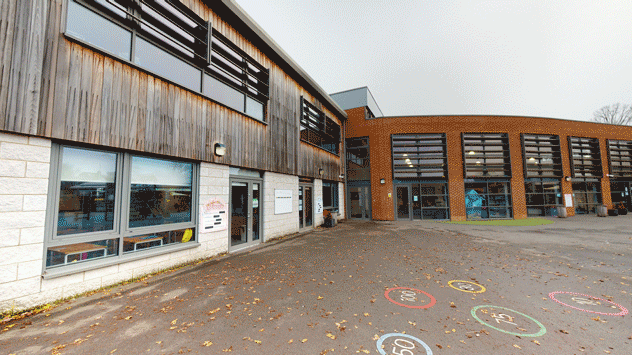 Sunshine on a rainy day?!
Yes! We appreciate that you want your school to be shown in a positive and bright manner.
So, don't be concerned about the weather – we can still shoot the exterior of your school on a grey day.
Back in our studios, we have the technology to convert grey skies to blue skies.
Check out our tours – you will not see a dreary skyline anywhere!