An iProspectus is the modern and effective way to promote your school to parents, pupils and the wider community.
Full of interactive content including links to your virtual tour, website, videos and curriculum details.
Easy to instantly update and distribute. No more costly print, packaging or postage!
We offer a complete iProspectus design service, including pupil and school photography and also copy writing.
Perfect for a brand new prospectus or to update your current version.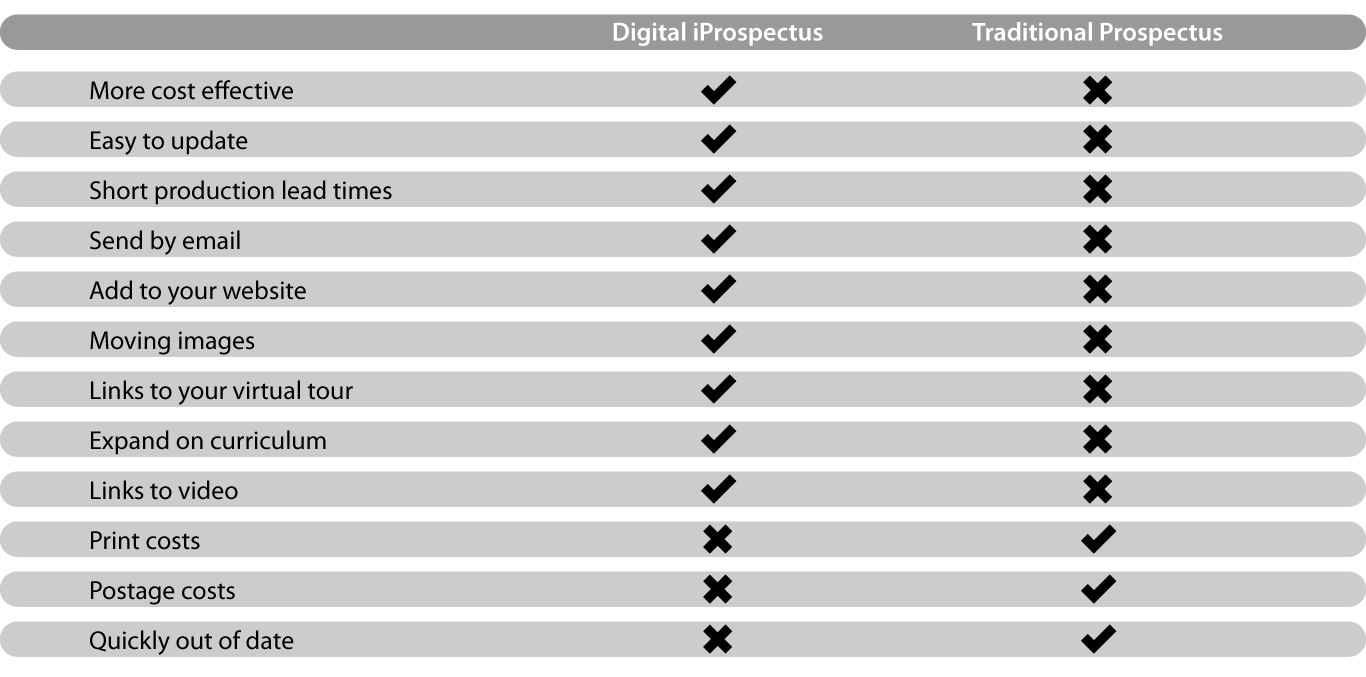 Why an iProspectus?
When it comes to updating a current prospectus or creating a brand new one, we understand that it can be a daunting and expensive task. A traditional, printed prospectus is quickly out of date, expensive and complicated to produce, as well as being costly to distribute.
An iProspectus from Educated Media provides a unique solution to promoting and showcasing your school and syllabus, with a focus on boosting pupil recruitment. We provide a complete service including concept and design, as well as copy, content and photography.
Your iProspectus is designed with the ability to update easily, built in from the start, giving you an always current, eye-catching prospectus to promote your school.
So how does it work? Firstly, it's important to say that this is not just a "page turning" version of a printed prospectus. We design your iProspectus to work perfectly on PCs, laptops, mobiles and tablets. You get a special type of PDF document that you can send quickly and easily by email, add to your website or include in social media.
iProspectus features & benefits
Every screen page can feature transitioning photos, so you get to show more of your school in one space. For example, a picture of an empty classroom can transition in to an image of the same room full of pupils, and then merge to a close up photo of pupils at work or play.
Every page has links to take the reader to more information, which can include documents such as curriculum detail and learning journeys, or specific pages on your website.
You can provide your own words, or our experienced copy writers will write clear and concise copy to convey best your school's character and ethos. In your iProspectus the text itself becomes interactive, taking readers to more info, with Important words and phrases being highlighted with motion graphics.
If you already have photographs, we can use them. Alternatively, we have experienced, intuitive photographers, who can show your pupils and staff, buildings and facilities, in the best possible light.
When it is time for an update, perhaps with a new member of staff or improvements to facilities, it is quick and easy – simply provide us with the new information and we will do the rest. Your updated iProspectus will be ready in a matter of days, or just minutes if it's a quick amendment!